West Bengal Prochesta Scheme Form PDF – West Bengal Chief Minister Mamata Banerjee has announced a new scheme, under this scheme financial assistance is being provided to the laborers and daily wage earners. Prochesta Prokolpo was launched from 10th April 2020 with an aim to benefit those people who have lost their livelihood due to the outbreak of covid 19. Special schemes are started for the people so that they do not suffer much.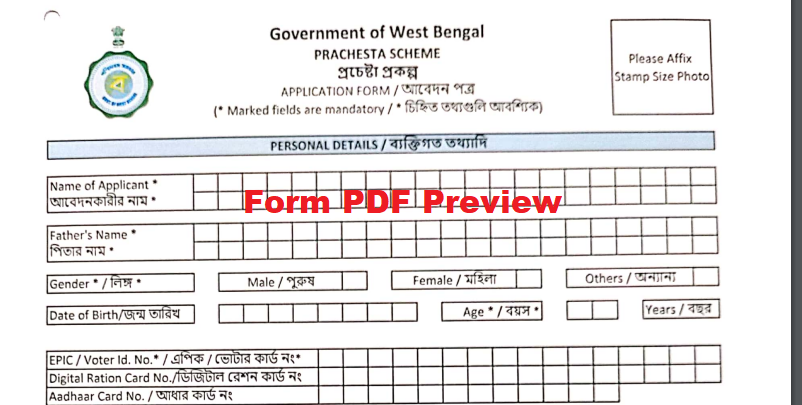 For applying in this "Prochesta Procolpo Scheme" launched by the Government of West Bengal, we will provide you the direct link of the application application form in this article. Those who want to apply for the scheme can visit the official website of the Government of West Bengal www.wb.gov. You can fill the application form at .in. Or you can download the application form through this article provided by us.
West Bengal Prochesta Scheme Form PDF
| | |
| --- | --- |
| Article | Prochesta Prokolpo Scheme |
| State | West Bengal |
| Launched By | CM Mamata Banerjee |
| Concerned Dept | Labour Department, Govt of WB |
| Beneficiary | Daily Wage Workers |
| Benefits | Rs 1,000 Incentive |
| Official Website | https://wb.gov.in/ |
| Application Form PDF | Download Here |
Under this scheme, financial assistance will be provided to the beneficiaries so that they can afford basic facilities. The beneficiaries of the scheme will be provided a one-time monetary assistance of Rs. 1000. Beneficiaries of the scheme have to apply for the scheme.
Conclusion (निष्कर्ष)
We hope that you have liked the information related to WB Prochesta Scheme Form PDF. If you have any question related to West Bengal Prochesta Scheme Form in your mind, then definitely ask in the comment box below, we will try to reply you soon.
नोट – इस साइट पर सभी ऑफलाइन फॉर्म से संबंधित जानकारी प्रदान की जाती है | यदि आपको किसी भी फॉर्म की आवश्यकता हो तो आप गूगल पर allformpdf.com सर्च करके भी इस साइट पर विजिट कर सकते हैं | इस साइट पर सभी जानकारी में हिंदी भाषा का प्रयोग किया गया है |